News
Road Closure-Coraki to Woodburn Road
As an essential service, all Northern Rivers Buslines bus services have been granted permission by Richmond Valley Council to travel along Coraki-Woodburn Road as per our normal timetables. Students and passengers can expect the buses to arrive at their alloted stop and time as normal.
N.B. at the time of writing, there is still localised areas of flooding with associated road closures in the Bungawalbyn area and as such some school services, Run 64, are operating a reduced service.
Please call our office on 66261499 for more details.
School Bus Passes 2017
The 2017 School Bus Pass for those students who are deemed eligible by Transport for NSW for free travel will be mailed to the student's postal address. Passes will be received after the start of the school year.
If you have not updated details for students in Year 3 or Year 7 or if you received a letter from Transport for NSW about an expired entitlement please submit a NEW APPLICATION online.
If you already have approval for 2017 and need to change address, school or transport operator then you will need to UPDATE STUDENT DETAILS online. Please disregard the reference to Opal Card Number when updating details for a BUS PASS just provide the students details, current school and date of birth.
Links to the Transport for NSW online forms are available from the home page on this website.
School Term Passes
Discounted Term Passes are available for all non-eligible students from our office. These passes can be purchased over the phone, by visiting us in the depot or by emailing, posting or faxing us the Term Pass Application Form
Screen Tips for Online Applications
Do I need to enter the School Opal Card Number or Application ID when Updating Student Details for a School Bus Pass?
No you do not need to enter any details into the School Opal Card Number or Application ID fields. This section is not mandatory. Please see guide below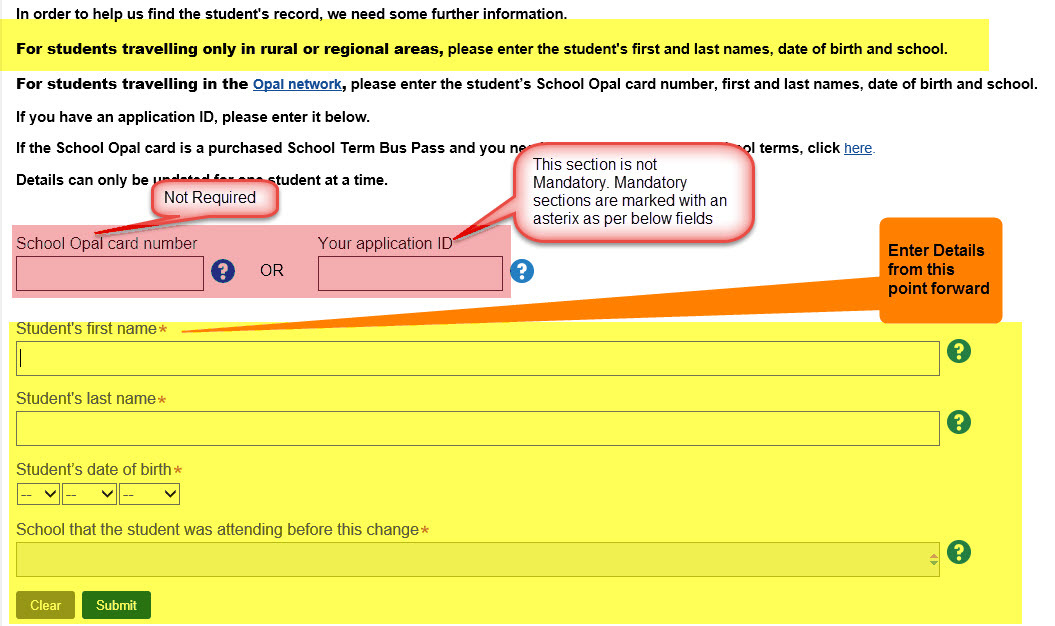 What if the Bus Operator is not on the nominated transport operator list?
If your Bus Operator does not come up on the nominated list of operators then you can manually add that Bus Operator. Please see guide below.